Winter Staples
Now that winter seems to have arrived after a long (and appreciated) fall, I've pulled out all of my winter clothing goodies. The array includes a few pieces that I can't believe I went without previously. To be honest, I only moved to the east coast six years ago but I already feel as though I have developed a system for dressing nicely and warmly for the season. The following is a list of my winter must-haves.
1. Wool (sweaters)
This one seems a bit obvious, but I can't stress enough how big it was for me, personally, to discover this miracle fiber. Where previous cotton and acrylic sweaters fell short, I was delighted to discover that this natural fiber would not only keep me warm but wear well and wick away moisture. Since it is, by nature, meant to warm and protect its producer (sheep) it does a great job doing the same thing for me.
2. More Wool (tights)
You would think that wool tights would be itchy and uncomfortable. They are not. Not only are they cozy, but they insulate your legs incredibly well. Not only do they are my legs toasty warm, but they are durable, lightweight, and more comfortable than spandex tights. I'll usually throw on an extra pair of socks, but I have particularly bad circulation.
3. Undershirts (or vests, to the British)
This is one of those things that seems to have vanished into the memories of yesteryear. The idea was to wear an insulating layer over your undergarments but under your clothes. I suppose this is comparable to the function of long johns or thermal shirts. I have a bunch of pieces like this, although they are in different styles and materials. I have a few beautiful 1930's silk undershirts that I LOVE.; V-neck, short sleeve knit silk tops. I also have some sleeveless pointelle knit wool undershirts: Amazing. They insulate beautifully. And when your core is warm, the rest of you feels pleasantly warmer.
4. Waterproof Boots
While I have a pair of Bean Boots for the snowiest of days, I found myself in need of a pair of street shoes that wouldn't turn into a sponge during the course of a wet winter dog-walk. My search for boots was agonizing, as they needed to fit the following criteria:
1. Waterproof
2. Good Looking
3. Comfortable
4. Ethically Manufactured
5. Under $200
You would be surprised how little is available that fits all of these needs. Cute inexpensive boots were poorly made via questionable manufacturing. Nice looking well made boots were not waterproof. Good looking and ethically manufactured boots were out of my price range (though had I more funds, I would have absolutely supported these companies). Eventually I discovered this pair of waterproof, good looking, comfy, functional, handmade in Quebec, and under $200 boots. What a journey. I recommend them, 100%. We'll see how long they last...
5. Long(er) Skirts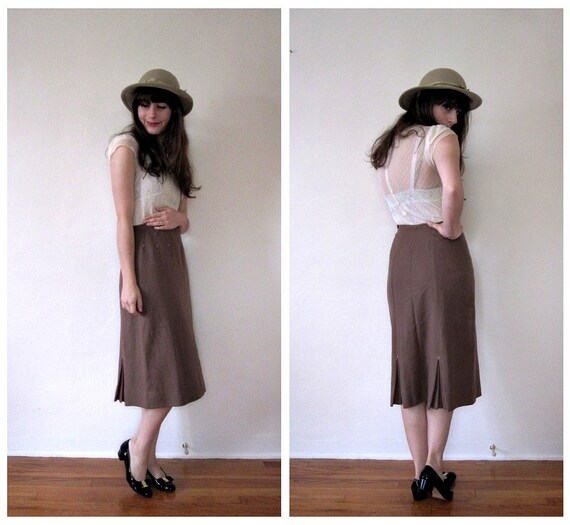 Long skirts are not just for flowing resort ensembles or boho hippie chicks. I'll forgo the drapey, silky, chiffony maxi skirt of today(?) for the woolen, tailored, and, ahem, warm appeal of a vintage mid-calf (I believe they call it a 'midi') skirt. Preferably something simple and and appropriately WWII drab, leaving just a few inches between hem and boot-sock. Fantastic.
All of these items in collaboration provide me with a cozy and stylish winter experience. I'm constantly developing potential other utility fashions. I'll get back to you with more in the future